What our Customers say
We're proud to have covered over 14 million windows to date and even prouder to have received so many nice comments from so many happy customers.
---
@home_in_ni
"I absolutely LOVE the range of Shutters, Curtains and Roman blinds available. Great choice, affordable and great quality. What more could you want? "
@our.home.in.dorset
"I'm absolutely delighted with our Click2Go Roman Blinds. They were so easy to install, even I could install them! We've had to do a little decorating recently and they were so easy to remove so we could access the window. The quality is fantastic. We can really feel the benefit of the thermal interlining and we think they look great too. The blinds have really transformed both rooms and we wouldn't hesitate in using Blinds 2go again."
@kateandherhome
"I've used Blinds 2go on many occasions in our current and previous homes. The quality of their blinds is always amazing, and they have an incredible range of fabrics to choose from. The service is excellent, and the ordering process on their website is so straightforward. I would 100% recommend!"
@paintitprettyhome
"We absolutely love our Blinds 2go Roman Blinds. They were produced, dispatched and delivered in record time. It took us no time at all to secure them to the wall and we are so pleased with how they have finished off our rooms. We have used Blinds 2go Roman Blinds throughout our home because the quality is fantastic and the choice and variety is the best we've seen."
@_homeonthecorner_
"I have been a long standing customer of Blinds 2go for over 6 years, using them without hesitation for 2 house renovations. Their service is faultless and website is very user friendly! I have a selection of fabric Roman Blinds and Shutters and the quality is always excellent. 100% recommended."
@the_creative_saint
"I've used Blinds 2go previously for my blinds before but I had never bought cushions from them. I was blown away with the wide range and branded options they had! I'm obsessed with the all the William Morris cushions and the ones I picked for my home are gorgeous, in quality and style! I'm very happy!"
@nb.property
"My bedroom blinds are my eighth set of blinds from Blinds 2go, the quality and service is outstanding! From ordering samples, measuring guides to easy fitting guides, look no further for beautiful quality affordable blinds!"
@home.with.the.harts
"We have used blinds from Blinds 2go for every room in our house and we love them. They are great quality and were very easy to fit ourselves. The customer service was excellent and they were delivered quickly."
@hattie.home
"We have used Blinds 2go in nearly every room in our home. It's so easy, just measure, order online & install. We have their Shutters, BiFold ClickFIT Blinds & Wooden Blinds & I can highly recommend them all."
@hilaryscolourfulhome
"As soon as I saw the Blinds 2go Cath Kidston Mid Stripe Candy I knew it was the perfect choice for my chosen colour scheme. Ordering was really straightforward with Blinds 2go guiding you through the process offering clear guides on measuring and explaining each of the different options available. I opted for a recess fit and also chose the thermal lining to help insulate the room. The blinds arrived quickly and were amazing quality. Fitting couldn't have been more straightforward and following the handy guide on the website my blind was up and ready to admire in under 30 minutes."
@grace.athome
"I'm absolutely delighted with my Click2Fit Roman blind! It was so easy to install! As always, the quality from Blinds 2go is fantastic, and they have such a great selection of fabric options. My blind has completely transformed the space, and I'm so pleased with the finished look."
@home_at_no3
"We've ordered from Blinds 2go several times now and have always been so happy with both the service and the products. The PerfectFit Blinds are a great addition to our dining room!"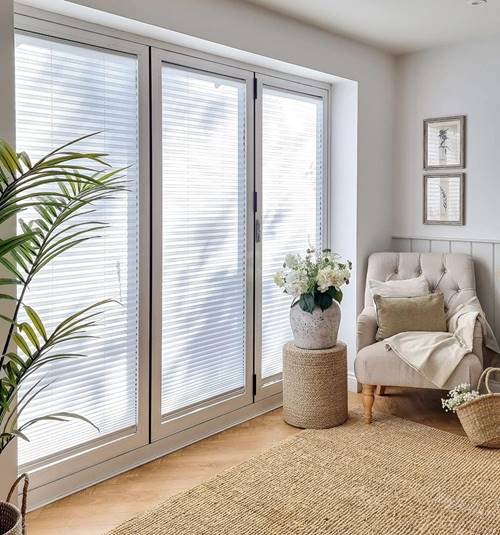 @journeyat_number30
"Absolutely in love with our new ClickFit Bifold Blinds. They were not only so easy to install but also finish the space off perfectly. Blinds 2go are a company I have purchased off many times and I honestly wouldn't go anywhere else for blinds, highly recommend."
@thelittlenorwichhouse
"Blinds 2go has a great range of affordable and stylish blinds with speedy delivery and easy fitting too. We opted for a simple and fresh design for our spare bedroom and will definitely be using Blinds 2go again in the future!"
@henrickhouse
"We absolutely love our new Roman Blinds! The quality is amazing! They have finished this room off perfectly. We opted for the Click2Fit headrail which makes them so easy to install. I definitely recommend Blinds 2go & will be purchasing again."
@laurelchick
"Blinds 2go's quality and efficiency is outstanding and at such a good price point. Which is why I have used them professionally for many years. So when the opportunity came up to use them at home I was delighted. My William Morris Roman Blinds in collaboration with the V&A add so much cosiness to the sitting room."
@rachelsorbyhome
"Our Linen Natural Roman Blind has totally changed this corner in our kitchen. The fabric brings warmth into the kitchen making it feel cosy and I love the light filtering option we chose too. We were also really blown away with how easy the blind was to put up with the Click2Fit headrail option. All in all we are so happy with the blind and would always use Blinds 2go in the future!"
@athomewithliv
"Absolutely beautiful blinds that were easy to fit, involved no drilling (Click2Fit) and the quality is fantastic. The blinds fit perfectly in the window. I opted for blackout for my son's room and it works wonders for those daytime naps! Stunning design, fab quality and lovely customer service. Recommend whole heartedly!"
@ninageeathome
"We are absolutely thrilled with our blinds from Blinds 2go. There was so much choice and lucky for me, loads of gorgeous neutrals and natural materials, which is exactly what I was looking for to complete our bathroom. We went for the Click2Fit system which is an easy peasy way to put up your blinds without the need for drilling or tools. They literally pop into place! The whole process of ordering and measuring the windows was super simple too & they were so helpful throughout. The website made everything easy and stress free. The blinds have completed our bathroom and the linen fabric is beautiful; high quality, and drapes so nicely! 5/5 from me. Would definitely use them again!"
@maureen_gomez_interiors
"Blinds 2go has become my go-to company for blinds and curtains over the last few years. I have many in my own house and have installed them in numerous professional design projects. They have such a lovely range of fabrics and are such good quality and value. The customer service is really excellent. I really can't recommend them highly enough."
@ourwinchesterhome
"We've recently moved into our new home and all our blinds are from Blinds 2go! We wouldn't go anywhere else now! Perfect fit, colour, lots of styles to choose from and match our home perfectly. "
@inside_annies_house
"I'm delighted with the quality of my Roman blind and matching curtains in my master bedroom. Blinds 2go were great to deal with with quick delivery."
@ourruralnest
"I have used Blinds 2go for all of my blinds over the years and have always been thrilled with the quality. We opted for matching blinds and curtains in our lounge in fabric 'Chenille Moonstone" with thermal blackout lining. They have transformed this space and they make the room extra cosy on a cold winter's night."
@no_70home
"Would 100% recommend Blinds 2go. We love all our blinds that we have chosen, which we received after only a week over ordering. Great quality, and prices you can't complain at!"